The Capertee district has attracted some eccentric types over the years. One such individual was Jack Dawes who lived in the area during the 1930s, 40s and 50s. Jack was a man of very humble means who lived in a water tank in Capertee. His impecunious lifestyle soon attracted the attention of the local police who charged him under the (now repealed) NSW Vagrancy Act. We will leave a newspaper report in the Goulburn Evening Post, of Monday 11th June 1951, to explain the odd details of the case.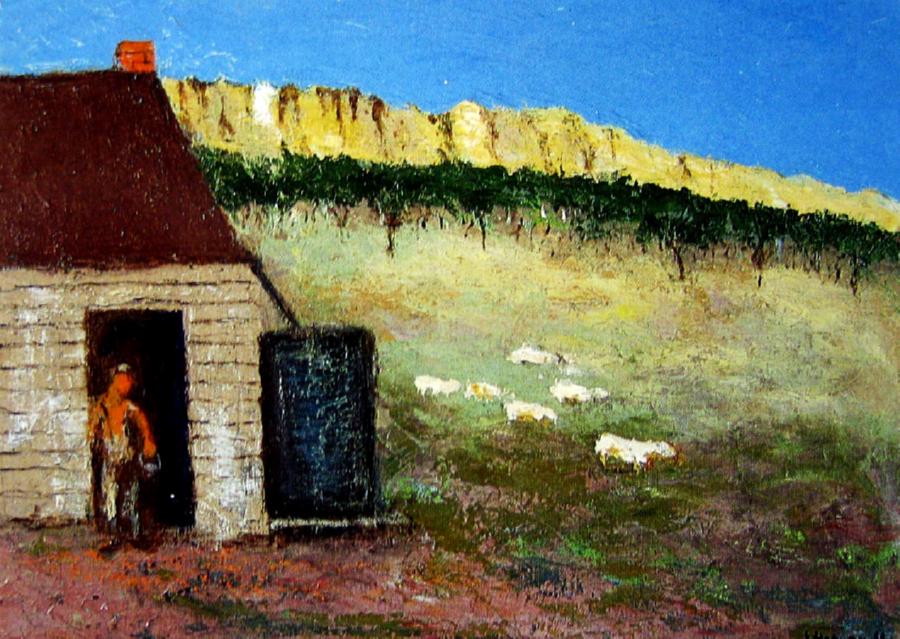 The Hermit, Capertee Valley (1988), oil by Sali Herman
image courtasy AASD website
Vagrant Wore Live "Fur" To Keep Warm
A 58-year-old man charged with vagrancy had to be stripped of a large black tom-cat which he claimed he wore to keep him warm when he appeared in Capertee Court of Petty Sessions. The man, Jack Dawes, of Capertee (near Lithgow) was sentenced to three months hard labour.
When Dawes was taken into court, police noticed a large bulge inside his old shirt. Asked what it was, Dawes put his hand into his shirt and pulled out the head of a large tom-cat. He objected when police ordered him to remove the cat in court. He stated that he wore the cat there to keep him warm. He had had the animal for 15 years. The cat was taken from him. After Dawes had been sentenced, Mr. K. Dash, S.M., commented: "I think we'll send the cat with him too. I'm sure we can find a warrant card for it somewhere."
Dawes pleaded not guilty to a charge of having insufficient support. When asked in court how he lived, he commented: "Ben Chifley keeps me!" Apparently Mr. Chifley's patronage was not enough to convince Mr. Dash. He convicted Dawes who was later taken to Lithgow police station. He was then transferred to Bathurst.
Police stated that he lived in a tank in the Capertee district. He had the tank sealed and had to crawl into it through a small hole. Only food stuff which he had with him was cat's meat. He was anxious to take the cat with him.
Some months ago, Det. W. J. Heron, of the Lithgow Police visited the "home" of the accused. He was surprised when Dawes ran-out and sprayed him with eau-de-cologne, explaining that he always kept the perfume on hand for friends.
A big thank you to J. O'Shea, a distant relative of Jack Dawes, for sharing this quirky tale. She believes that her relative died in 1960. In the absence of a photo of Mr Dawes we have reproduced a work by the famous Swiss-born Australian artist Sali Herman (1898-1993), titled 'The Hermit, Capertee Valley'.