There are few people who can claim to know the Capertee Valley so well over such a long time. One such person is the landscape artist Leonard Long who was born well over a century ago in 1911. Although never a local resident Long has visited the Capertee Valley many times to paint during his long art career.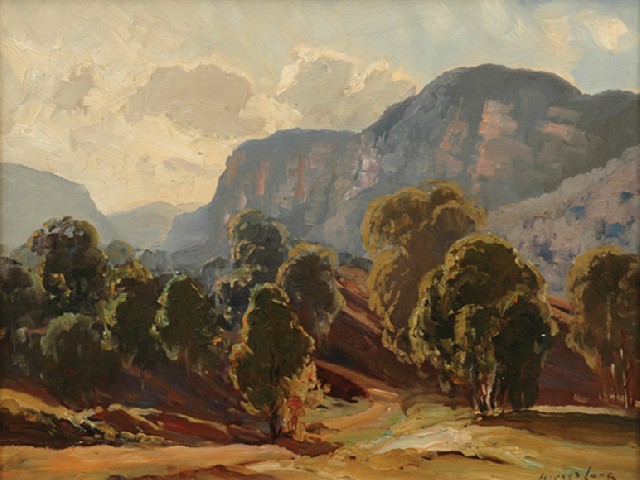 Morning Light, Glen Davis
, oil by Leonard Long
image courtesy ASSD website
Long first painted in the valley in the late 1940s and his first images from the area were exhibited at the 1949 annual show of the Royal Art Society in Sydney, and he has painted in the area several times since.
The Lone Gum, Glen Davis
miniture oil by Leonard Long
image courtesy Davidson Auctions
The son of a baker, he was born in Summer Hill, Sydney on 25th April 1911, but was raised in the Southern Highlands of NSW where he showed an early aptitude for art. Despite his artistic talent he later became a watchmaker and moved to Nowra in the Shoalhaven. In 1955 he sold his watch-making business and became a full time painter. In 1980 he moved to Melbourne where he now lives. In 2011 he held a centenary exhibition of his work, a rare achievement for any artist.
Photo of Leonard Long
image courtesy Wikipedia
Leonard Long has painted all over Australia and elsewhere in the world. A career highlight was when he painted with the Aboriginal landscape painter Albert Namatjira. Long is part of the outdoor painting tradition which his often called
en
p
lein air
painting, an artistic technique where images are created outdoors in front of the scene rather than making images in studios from preliminary drawings or photographs.
On behalf of the people of Capertee we wish Mr Long well in the final years of his career. He can be rest assured that his is fine images of the Capertee Valley have added to the artistic heritage of the region.
Postscript
Since writing this piece we learn of the death of Leonard Long on 3rd November 2013, he was aged 102. He lives on through his many paintings